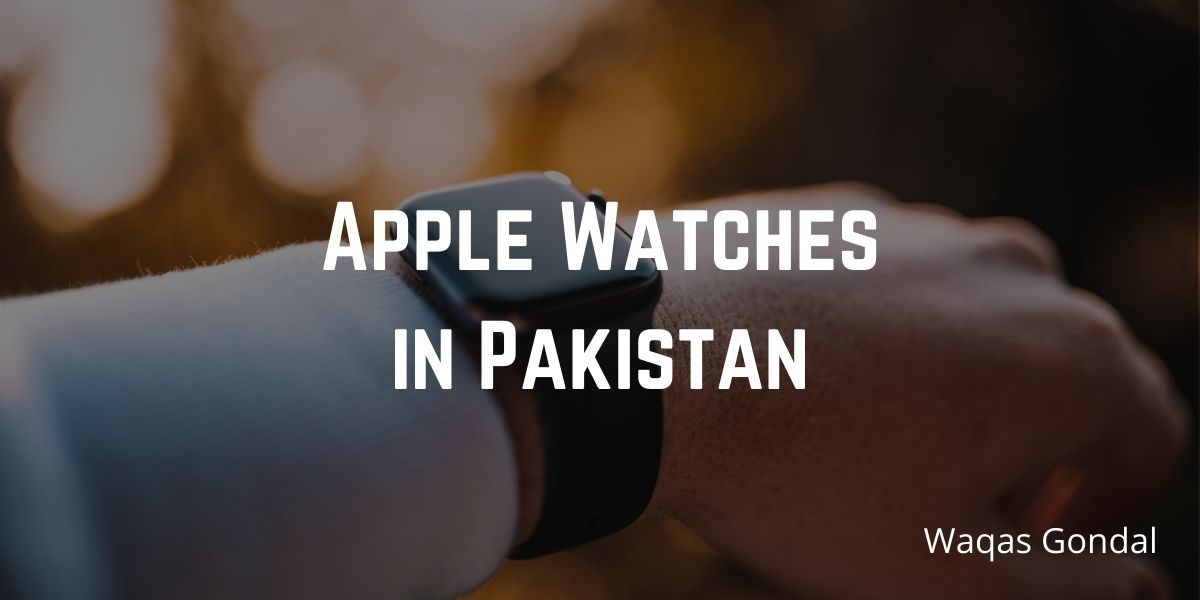 Apple released new watches namely apple watch series 6 and apple watch special edition (SE) which are officially available everywhere except Pakistan. However, if you want to buy an apple watch then you have to import it yourself or buy it from a third party supplier. Unfortunately, ECG feature is not available in Pakistan. But it is still a great choice for you.
Where to buy an Apple Watch
Apple watch is not officially available in Pakistan because there's no official Apple Store in Pakistan; if you are willing to buy an apple watch you have to buy it from a third-party store. However, you can import it yourself from America, Europe or any other country.
If you buy it from an unofficial store you have to be careful because there are many fake or copies of apple watches available in the market. And people who are willing to earn more profit and trying to sell a fake or used product on the account of new.
There are Chinese variant or copy of the Apple watch available so as a new user will not be able to differentiate between an original and copy of the watch. Therefore, be careful.
You can import it yourself too, the easiest way is to ask your friend to buy it on your behalf. The cheapest watch you can import in from America.
If you want to import it from another country then Dubai should be on your priority list. Because if you compare the price from Dubai variant with American it will not be more expensive. However, Dubai variant also adds that value-added tax (VAT) on mostly all of the products. In addition to that, there will be shipping charges for or any of the products including apple watch or iPhone.
Price of the Apple watch series 6
Apple watch series 6 is the latest product of Apple it is available in two variants. Apple watch without SIM and apple watch with e-sim. If you are going to buy an e-sim variant you have to pay an extra tax to PTA  to use it in Pakistan.
Apple watch series 6 is a great choice for you because it offers an always-on display. You would have when iPhone so you can receive and calls and have other notifications on the go.
Apple watch special edition is also great to include most of the features of Series 6 but is the cheaper version of the watch. I would say if you can afford apple watch series 6, then, obviously, you should go for it because series 6 has the latest chip in it. Apple watch SE (special edition) is also fine but it does not have an always-on display so, it is not as much attractive as series 6.
The price of Apple watch Series 6 (without sim) 44mm is 82000 rupees.
The price of Apple watch Series 6 (e-sim variant) 44mm is 96000 rupees.
Price of the Apple Watch Special Edition (SE)
The price of Apple watch SE 40mm is 58000 rupees.
The price of Apple watch SE 40mm is 63000 rupees.
I imported these watches from an official store from UAE.
My experience with apple watch series 6
I bought Apple watch in October so it's been two months that I am using it frequently in my workout routines, to monitor my sleep and measure my heart rate. Unfortunately, some of the features are not available in our country like ECG. Despite that, it is a great piece of text to track your activity to monitor your workout routine and check out your heart rate 24 hours a day. It's been a while I am using apple watch so, honestly speaking apple watch is a great choice in the market.
It can monitor your health, heart rate track your daily activities. Most importantly, it has a variety of prebuilt workout routines in it like yoga outdoor walk, indoor walk, functional stretch, gymnastic activities, dance and many more. I would like to share some of the screen shot of my in daily activities.
Features of Apple Watch Series 6 and SE
During the workout, it can record Heartbeat and the time latitude and longitude and consumable position on the map and most importantly it will calculate the calories you have burnt during the workout. So I would recommend it if you are an athlete are a bodybuilder. It can monitor your routines very effectively.
Also, calculate the sleep time so so on, in the long run, it will be very helpful to monitor your health. Apple watch will automatically calculate your weekly monthly sleep and generate reports. How much you slept during the last week. Moreover, it suggests that you have to get more sleep to stay fit.
Sound level measurement is also a great feature with apple watch series 6 and apple watch special edition (SE) offers. It measures the sound density level so it will recommend you if you are at a nice place you have to move around and look for some quiet place. Because and noise places such as factories are dangerous and can harm your hearing.
ECG and Oxygen level measurement is not available in SE. So, if you need ECG feature; then you should go for Apple Watch Series 6.
Apple watch is so customisable you can install applications of your own choice. For instance compass. There are many prebuilt applications available in the watches i.e. weather, calculator, fitness app etc.
Conclusion
Apple watches are expensive according to the buying capacity of common citizen of Pakistan. But, it is a great product to track your fitness level, monitor your health and stay active.