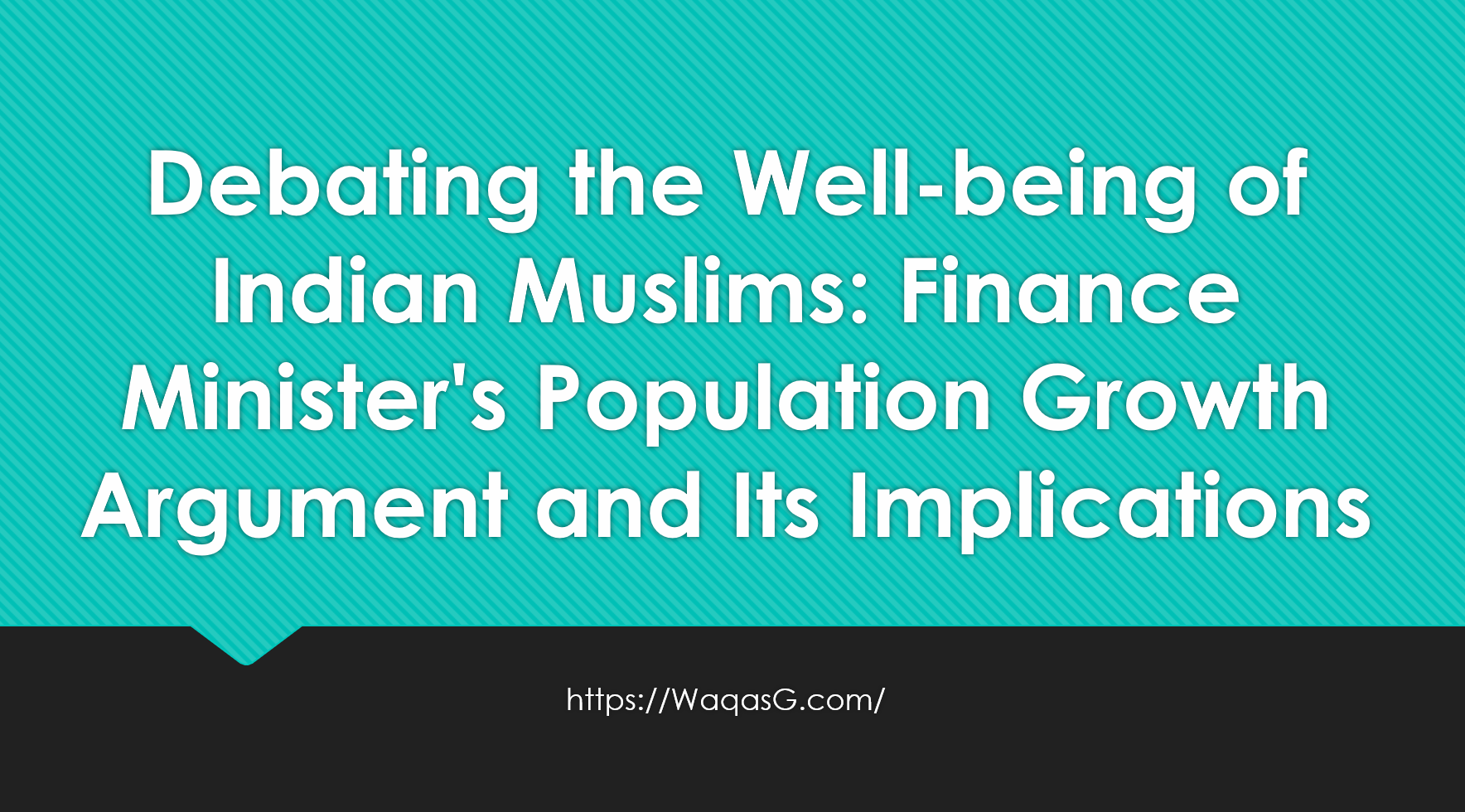 Introduction
The treatment of Muslims in India has been a matter of global concern for some time now. Recently, Nirmala Sitharaman, the country's Finance Minister, made an unexpected statement during a conference in Washington. She argued that the portrayal of Indian Muslims by Western media is not entirely accurate, citing the fact that their population has increased since India gained independence in 1947. However, her argument seemed out of place and did not address the well-documented persecution of minorities, including Muslims, by the current government. The Hindu nationalist government has a history of denying criticisms and manipulating public opinion. Despite this, Sitharaman's statement suggests a new approach that may have concerning implications. This article delves into the evidence behind Sitharaman's claim, examines the situation for Muslims in India, and covers topics such as their representation in parliament and access to education and healthcare.
Indian Finance Minister Challenges Western Media's Portrayal of Muslim Situation
A high-ranking Indian official has recently made an unexpected statement regarding the well-being of Indian Muslims. Finance Minister Nirmala Sitharaman, speaking at a conference in Washington, argued that the situation of Muslims in India is not as negative as it is portrayed in the Western media.
To support her claim, she pointed out that the Muslim population in India has grown since gaining independence from British rule in 1947. This argument seemed out of place when presented to a foreign audience, as it seemed to be an attempt to counteract negative stories about the mistreatment of Muslims in India.
The Controversial BBC Documentary on Anti-Muslim Violence in Gujarat and Its Implications for India's Current Political Climate
A recent BBC documentary, which provoked strong reactions from the Indian government and led to its removal from YouTube and other platforms, highlighted a confidential British evaluation of anti-Muslim violence in Gujarat in 2002. At the time, current Prime Minister Narendra Modi served as the state's chief minister.
The report directly implicated Modi in the attacks against Muslims. Since Modi's rise to power, the persecution of minorities, including Christians and Dalits, has broadened in scope and severity, a fact that Sitharaman had difficulty refuting.
India's response to criticism has often involved outright denial and manipulating public opinion using Hindu nationalist media. However, Sitharaman's assertion at the Peterson Institute for International Economics in Washington on April 10 took a different approach, with potentially concerning consequences.
How India's Finance Minister's Remarks on Muslim Population Growth Raises Concerns About Moral Principles and Treatment of Minorities
According to her reasoning, Palestinians living under Israeli military occupation should be grateful to their occupiers rather than resisting them, since their population is also increasing – in fact, at a much faster rate than Indian Muslims. If one were to apply the minister's population growth theory to the Rohingya, Yemenis, or Afghans, we would have to reevaluate our moral principles to understand the apparent prosperity of those we thought were suffering from human-made hardships, yet whose populations continue to grow despite adversity.
Between 1990 and 2021, the population of Palestine grew from 1.98 million to 4.92 million people. In the case of Yemen, its population is expected to reach 34 million by 2025 due to a current growth rate of three percent, one of the highest in the world, despite the ongoing devastating conflict.
Addressing Hindu Right's Concerns and Population Dynamics in India: Sitharaman's Perspective
The Hindu right continues to express unfounded concerns about India potentially becoming an Islamic country. The opposing perspective would require similar modifications; for example, Switzerland and other European nations with declining populations might be considered impoverished.
India's Finance Minister Questions Perceptions of Muslim Population Growth in India and Minority Challenges in Pakistan
During the meeting, Sitharaman reportedly discussed numerous topics, including a somewhat accurate portrayal of the challenges faced by minorities in Pakistan. She emphasized that India has the world's second-largest Muslim population, which continues to grow. She questioned whether, if the Indian state were truly making life difficult for Muslims, the Muslim population would have experienced such growth since 1947.
It is worth noting that the Muslim population has grown slightly faster than the Hindu population. The 2011 census showed that Hindus made up 79.80% (966.2 million) of the population, Muslims 14.23% (172.2 million), Christians 2.3% (27.8 million), and Sikhs 1.72% (20.8 million). Experts predict that the rate of Muslim population growth will decrease in the next census, which has been delayed due to COVID-19.
Devendra Kothari, the former chairman of the national committee to review family welfare, stated that the next census would likely show a modest increase in the Hindu population share, rising to about 80.3% from 79.8% in the 2011 census. The Muslim population share, however, is expected to stabilize or decline. Kothari explains that even if Hindus ceased to have children and only Muslims reproduced, India would not become a Muslim-majority nation before 2170, based on simple mathematical calculations.
Debunking Myths: Special Rights, Population Growth, and Access to Resources for Muslims in India
Kothari asserts that Muslims could only surpass Hindus in population if the latter stopped having children entirely, which is highly unlikely and therefore improbable. Despite this, the Hindu right continues to express unfounded fears about India becoming an Islamic country. The growing Muslim population in India is a recurrent concern for Hindu extremists, who sometimes encourage Hindu women to have more children to prevent this possibility.
Uttar Pradesh Chief Minister Yogi Adityanath provides another controversial viewpoint, claiming that the Muslim population has increased because they have received special rights. But what special rights? The Sachchar Committee, established by the Congress-led alliance to evaluate the status of the Muslim community (considered heretical by the current administration), refutes allegations of Muslim favoritism with solid evidence.
There is a notable and significant negative correlation between the percentage of the Muslim population and the presence of educational infrastructure in small villages. Approximately one-third of small villages with high Muslim populations lack educational institutions. Additionally, around 40% of larger villages with significant Muslim populations do not have access to medical facilities.
Declining Muslim Representation in Indian Parliament: A Historical Perspective
Zoya Hasan, Professor Emerita at Jawaharlal Nehru University, highlights the fact that Muslim representation in the Indian Parliament reached a historical low in 2014. In the 1980 elections, nearly 10% of elected officials were Muslim, whereas in 2014, that figure dropped to less than 4% – the lowest percentage since 1952.
Furthermore, the number of Muslim legislators declined from 49 in 1980 to 23 in 2014, which was a decrease from the 30 members in 2009. This underrepresentation of Muslims is quite striking when considering that they make up 14% of India's population. Based on their population size, there should be at least 77 Muslim MPs in the Lok Sabha, but there are only 23, resulting in a shortfall of 54 members.
However, Finance Minister Nirmala Sitharaman could point out that Muslim representation in Parliament slightly improved in 2019, with an increase of three MPs, bringing the total to 27. This marginal improvement is something the Western world should not overlook.
Conclusion
The mistreatment of minority groups, particularly Muslims, in India has been an issue of concern both domestically and internationally. Sitharaman's argument about the growth of the Muslim population may have been an attempt to counter the negative portrayal of their treatment. However, it fails to address the documented persecution of minorities under the current government. The government's tendency to deny criticisms and manipulate public opinion has been an ongoing concern. This article has examined the evidence behind Sitharaman's claim, explored the situation for Muslims in India, and discussed their representation in parliament, as well as access to education and healthcare. It is crucial to continue to monitor the treatment of minorities in India and hold the government accountable for their actions.