In this article I will tell you how are you can buy iCloud storage from Pakistan.
Apple has a lot of customer in Pakistan who use Apple devices such as iPhones, iPads, and MacBooks in order to back up their data they need to buy some cloud storage.
iCloud is one of the suitable option that is tightly integrated with Apple devices which you can share with your family members easily.
Apple cloud Storage Plans And prices for Pakistan in rupees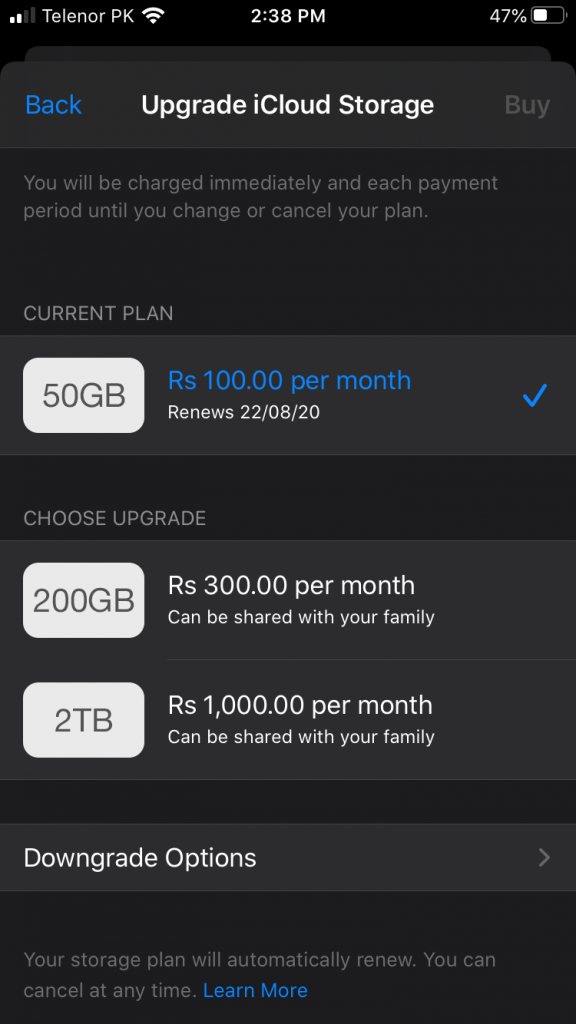 Apple app is free storage plans for this one is basic story which is 50 GB for Rs.100 per month second secondly the second option is 200 GB for Rs.300 per month the third option is 2 TB storage but you have to pay Rs.1000 per month.
One thing to keep in mind is that the first plan cannot be shared with others, however the second and third plan can be shared with family members.
Prerequisite to pay In Apple iTunes
Apple device

Credit or Debit Card
Any Apple product iPhone, iPad or MacBook is required. Second you need a debit card or credit card and you should have sufficient balance in your respective account.
First of all you should add your information into your Apple account, then go to storage plan. Your default should be 5GB. Then click on 50 GB or any other plan. After that it will automatically deduct money and your plans will be updated on all of your devices.
Can Apple accept union pay debit card?
Unfortunately Apple do not accept payment from Union Pay, so you must have Visa or MasterCard to buy something on App Store or iTunes
If you have any further questions please ask me in the comment section
Thank you for reading.
If you like this article please leave a comment for search Engine.
JazakAllah.