The preparation of the Graduation Assessment Test (GAT) felt like a cumbersome process. The candidates don't know, what to read and how to revise concepts to score well in GAT. The admission criteria vary from university to university, but GAT has assigned a major chunk in forming merit. So that GAT plays a vital role in forming the direction of the future.
The preparation of GAT is not about learning anything new, in fact, it is polishing your knowledge. A candidate needs to revise the required concepts in the shortest possible time. Things don't happen overnight, learning is a steep process; but, with little effort, you can obtain 60-70 marks easily.
First, look for paper distribution, and assign time accordingly.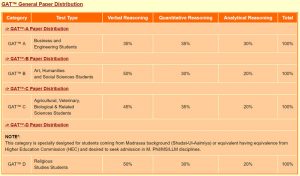 GAT includes three portions Verbal Reasoning, Quantitative Reasoning, and Analytical Reasoning.
Section 1: Verbal Reasoning
Analogies
Antonyms
Sentence Completion
English Error Correction
Reading Compression
Verbal Reasoning is solely dependent on your comprehension skills. For GAT-A (General) this section has 35% weigh, which poses 5 types of questions Analogies, antonyms, sentence completion, English error correction, and reading compression.
Links that can be helpful.
https://www.verbalreasoningtest.org/
https://sheir.org/edu/nts/verbal-reasoning/
Section 2: Quantitative Reasoning
Quantitative Reasoning is challenging for a few, but this is the portion where anyone can secure maximum marks. Look for elementary school books such as 7th or 8th standard and thoroughly go through it; above all, it shouldn't take more than 3 hours. Another way is to search these topics on Google and solve some practice questions.
Age problem
Zakat
Work & Time problem
Average
Ratio and proportion
DMAS
Permutation
Median, Mode
Probability
Percentage
Rectangle
Trigonometry
Find the value of x?
Greatest possible value and smallest possible value
Angle and clock
Circle
Product of two numbers
Speed and distance
Profit and loss
Triangle
General questions
Section 3: Analytical Reasoning
Definition:
"Analytical reasoning refers to the ability to look at information, be it qualitative or quantitative in nature, and discern patterns within the information." –Wikipedia
https://en.wikipedia.org/wiki/Analytic_reasoning
Analytical skills are essential in all fields of life. Practice makes a man perfect. The more you solve the test questions, the more chances are to succeed in the test.
https://sheir.org/edu/nts/analytical-reasoning/
https://www.studyandexam.com/nts-sample-paper4.html
In short, hard work is necessary to secure well in the Graduation Assessment Test (GAT).